Birding Antigua Guatemala Guides
Knut Eisermann and Claudia Avendaño have been organizing and leading birding tours in Guatemala with CAYAYA BIRDING since 2003. They are active field ornithologists in Guatemala since the 1990ies.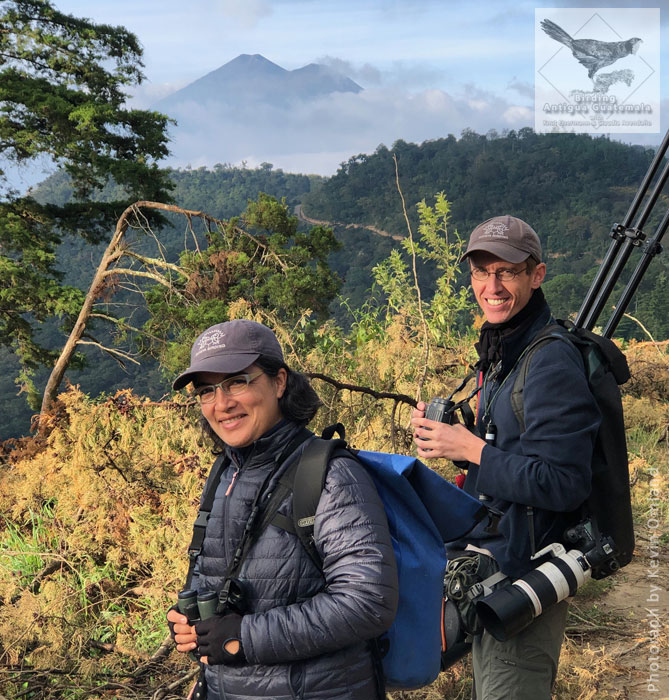 Knut and Claudia have been supporting ornithology, birding, and conservation throughout the country since more than 20 years. They produced the first fully referenced annotated checklist of the birds of Guatemala, published in 2007 by Lynx Edicions (Annotated checklist of the birds of Guatemala). They coordinated the identification of Important Bird Areas (IBA) in Guatemala as consultants for BirdLife International. They have been supporting the development of birding sites in Guatemala such as Los Tarrales, Sibinal, and Sierra Los Cuchumatanes; through professional advise, teaching local birding guides, and publicity (web sites, printed publications). They help to promote birding as hobby among Guatemalans through citizen science initiatives such as Christmas Birds Counts.
---
What birders say about Birding Antigua Guatemala with
Knut Eisermann & Claudia Avendaño
"Claudia Avendaño and Knut Eisermann are likely the two most experienced bird guides in Guatemala. I have been birding with them several times at El Pilar and Finca Filadelfia near Antigua. Both are extremely knowledgeable, organized and delightful to be with. As they are local, they have detailed knowledge of birds, birding sites, transportation and logistics of Guatemala that no international tour organization could possibly compete with. If you need some key target species for your life list, or if you are a just an ecotourist in Guatemala and you want to get out and see some birds, CAYAYA BIRDING is the way to go."
Kevin Omland, Baltimore, MD, USA.
"We (my wife and I) spent a wonderful day with Claudia Avendaño near Antigua. We saw many birds, including a great collection of hummingbirds. As well as being very knowledgeable, Claudia was a great companion. We are very much novice birders and she took great care to introduce us to the birds. All in all, it was a great day out."
David Eisner, Manchester, UK.
"My wife and I spent a wonderful day with Claudia Avendaño birding at the end of a weekend stay in Antigua. We have gone birding with world class guides in Ecuador, Peru, Costa Rica and Panama, and I can say without hesitation that Claudia is in that class. Given that she and Knut Eisermann are the longest running bird guiding outfit in Guatemala, it is to be expected that she knows and can find the birds of Guatemala better than anyone else. That she is a professional ornithologist, and active in conservation only makes recommending CAYAYA BIRDING that much easier. Most importantly, she was able to take account of our age (early 70s), infirmities (altitude impact) and conditioning to give us the measured activity that allowed us to enjoy our day and see what we came to see. She is as quick to line birds up in her scope as anyone I've birded with, and knows the birds of Guatemala and where to find them from her more than 25 years of study, field research and leading trips all in Guatemala. Claudia is a delightful, charming and interesting woman who clearly enjoys doing what she does so well." Joel Rosenthal, Miami, Florida, USA, 2019.
Day tour at Finca El Pilar: "Birded with Knut Eisermann one day in Finca Pilar close to Antigua. Would have to say he is one of the best birding guides I have ever hired. The Guatemalan Pygmy-Owl and the Ocellated Quail were just two of the great birds we saw that day. Without him as a guide I would have found very few birds. I have also birded with Claudia Avendaño, and they are both great birding guides."
Mike Parker, USA.
"We completed a half-day birding tour to Tecpán with Claudia Avendaño. She had sent us detailed information about what to expect for the trip. She was very punctual and we promptly left for our adventure. I considered myself a beginner birder and my husband comes along as he enjoys the nature trails as much as I do. We stopped at Rincón Suizo to eat breakfast and review some bird information. Claudia is a wealth of information! We were very impressed. This lady certainly knows her birds. We plan on going on another birding tour in the future and highly recommend her. "
Marta Ketter, Illinois, USA.
"Claudia Avendaño is a professional ornithologist, Birdlife International consultant and naturally a great birder! Tecpan gave us the opportunity to search for Blue-throated Motmot and Pink-headed Warbler both of which Claudia found but birding here without a guide would be very difficult. El Pilar trip started with a visit to some superb hummingbird feeders which were excellent with so may hummers across six species. If you're a photographer be prepared to spend some serious amount of time there! I have no hesitation in recommending CAYAYA BIRDING and especially Claudia. "
Katherine Branch, United Kingdom.
"Great tour of Pilar forest. Claudia Avendaño is clearly an excellent and experienced guide. Would recommend her any day."
Wendy Baker, Canada.
"Five days in the company of Knut Eisermann birding the hills and valleys of the countryside surrounding Antigua, Guatemala was an absolute delight. Knut is as much an ornithologist, with a special interest in owls, as he is a birder and this made the trip extra special. I am a serial guide user in the Americas and Knut is up there with the best of them." Kevin Buckley, New Jersey, USA, 2018.
"Great birding and great company by a knowledgeable guide, my day trip to Tecpán and Antigua was problems-free and full of regional endemics. Knut Eisermann (and Claudia Avendaño) took care of everything before my arrival to Guatemala, and in the field he was very professional (but treated me like a friend, what I appreciate a lot). I got most of my targets and many other goodies! Thanks guys!"
Jan Axel Cubilla, Panama.
"Claudia Avendaño was very professional and knowledgeable. Her English was impeccable, and I felt very comfortable spending the day with her. She was lightening quick with her spotting scope, and as a result I was able to see many birds I never would have seen without her assistance. She was a good listener and answered all my questions. I was impressed with her keen ear for the birds. I would highly recommend CAYAYA BIRDING tours to any bird lover. It is worth every penny!"
Tina Collins, USA.
"Our guide, Knut Eisermann was excellent! I was impressed by his bird knowledge, phenomenal eyes and ears, and on how well he took care of us. He was charming at all times, attuned to all of our needs both birdwise and otherwise, and extremely patient and considerate. He is lightning-fast on getting a bird in the scope! He is also a very safe driver. We had a delightful time. Claudia Avendaño was very prompt on her responses to all of our queries. Her pre-trip information was comprehensive and very clear. I would highly recommend that anyone interested in birding Guatemala contact them first."
Lorna L. Engleman, MD, and Dodge Engleman, MD, San Antonio, TX. Co-authors of: A bird-finding guide to Panama.
"My experience in Guatemala could not have been better. Knut Eisermann is a very accomplished guide who knows the birds beyond field guide information." Mark Lockwood, Alpine, TX, USA. Senior author of The TOS Handbook of Texas Birds.
"We were very pleased with our trip. Very much appreciated the expertise of Claudia Avendaño, who demonstrated extensive knowledge of birds, habitats, and ecology. Everything from our timely pickup, birding, meals together, and transportation was pleasant and professional. Claudia was very patient with our desires to take photos, and linger at various spots. She was an expert in quickly locating and drawing a bead on numerous species."
Bryan & Judy Hollinger, USA.
"It was a delightful trip from beginning to end. Communication was clear in the planning stages and throughout the entire trip. And, most especially, Knut Eisermann and Claudia Avendaño were 'over-the-top' birders! We loved their total friendliness and cheerfulness and their skills at hearing, seeing and identifying Guatemalan birds was amazing." Ann and John Reichhardt, Colorado, USA.
"Since the first response to my email, I realized that CAYAYA BIRDING was a great find. The information provided and the proposed plan were just what I needed and it all went as expected. The professionalism of Claudia Avendaño was amazing and finding the target species seemed like a routine for her. Besides the great birding, I had a very pleasent time talking about plants, geography and culture."
Esteban Biamonte, Costa Rica.
"At first, I didn't know what to expect, but I was taken completely off guard at how great this trip ended up being! Knut Eisermann was my guide, and he is incredibly knowledgable about the birds of Guatemala (it appears his partner, Claudia Avendañois as well). It was fun to see a veteran birder get as excited as a kid when finding a bird that he sees almost everyday. I highly recommend CAYAYA BIRDING for any birding experience. I will be going with them again before I go home! They plan everything for you, leaving you with nothing to worry about!"
David Schas, USA.
"Birding with Knut Eisermann and Claudia Avendaño is a double benefit. Not only do you get the best birding experience and expertise, but you are also supporting conservation and habitat/ecological awareness efforts through their programs with locals. Teach the local people about birds, employ them as paid citizen scientists, increase awareness about caring for the earth and support the local economy." Ruth Stewart, Vermont, USA.
More testimonials from tours with Knut Eisermann & Claudia Avendaño at our CAYAYA BIRDING website
---
Start here planning your birding day trip from Antigua Guatemala, using our online form or by telephone / WhatsApp / Signal: +502 5308 5160: