The town today known as Antigua Guatemala was founded in 1543 as the third location of Santiago de Guatemala (Santiago de los Caballeros de Guatemala). The first site at Iximché near modern Tecpán (35 km or 22 mi northwest of Antigua) was abandoned because of strong resilience by Kakchikel indigineous people, and the second site in the valley of Almolonga (now known as Ciudad Vieja, 4 km or 2.5 mi southwest of Antigua) was abandoned after a destructive mudslide from the slopes of Agua volcano in 1541.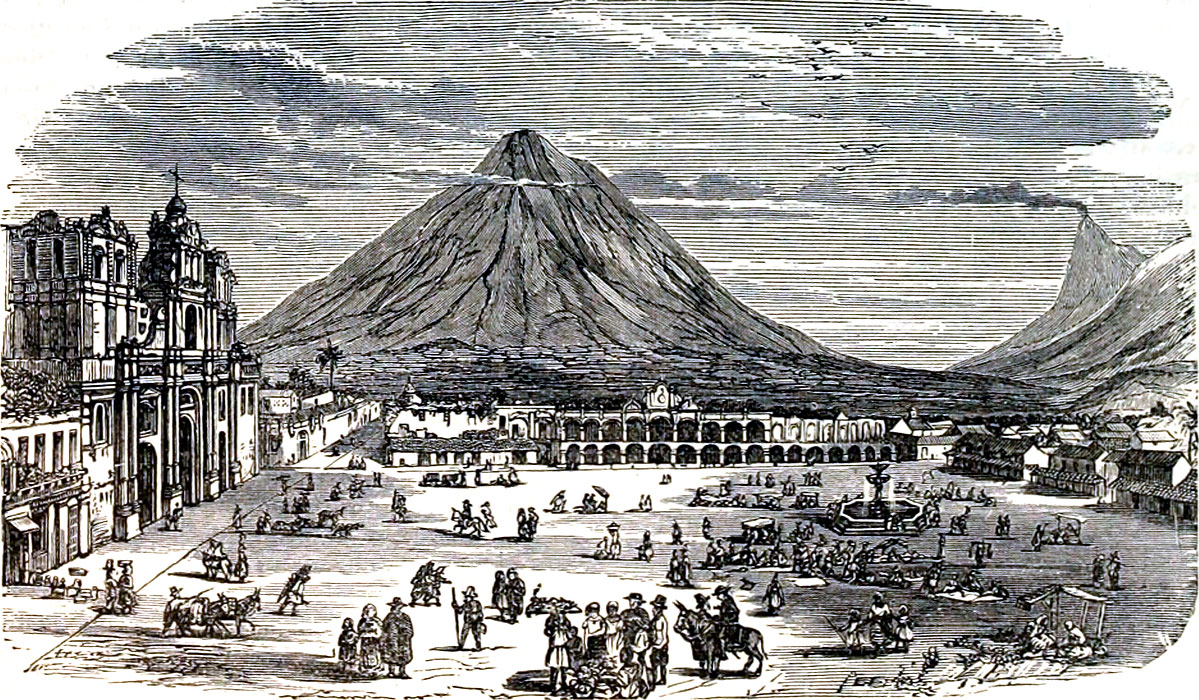 Santiago de Guatemala was the capital of the Central American province of the Viceroyalty of New Spain later known as Captaincy General of Guatemala (Capitanía General de Guatemala). This province included the area covered by present day countries of Guatemala, Belize, Honduras, El Salvador, Nicaragua, and Costa Rica, as well as the Mexican state of Chiapas.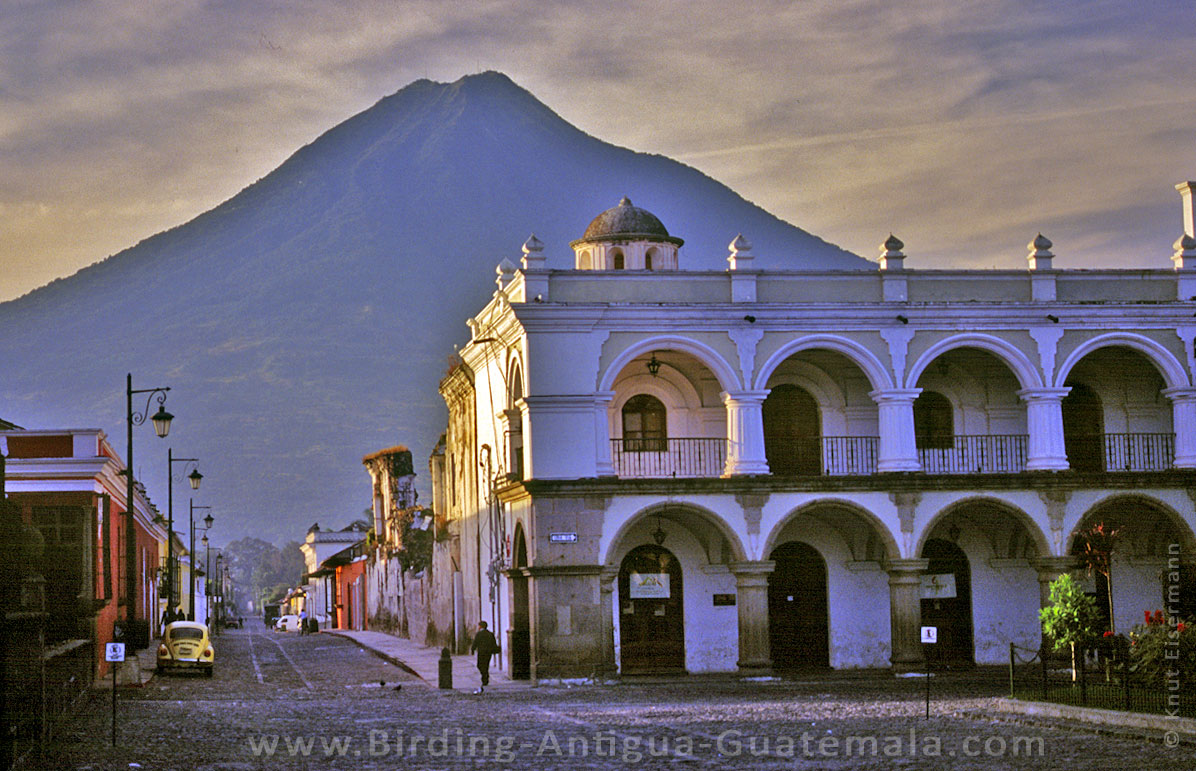 Over more than 200 years, Santiago de Guatemala flourished as one of the capitals of Spain's American empire, indicated by large commercial buildings and beautiful houses, and numerous opulent churches, monasteries and convents. An own architectural style - an adaption of Baroque - developed in the city. Intercontinental trade was based on agricultural crops such as cacao, tobacco, and indigo. San Carlos University, founded at the end of the 18th century, was the first university in Central America. The old university building with very ornate arcades is housing the Museum of Colonial Art.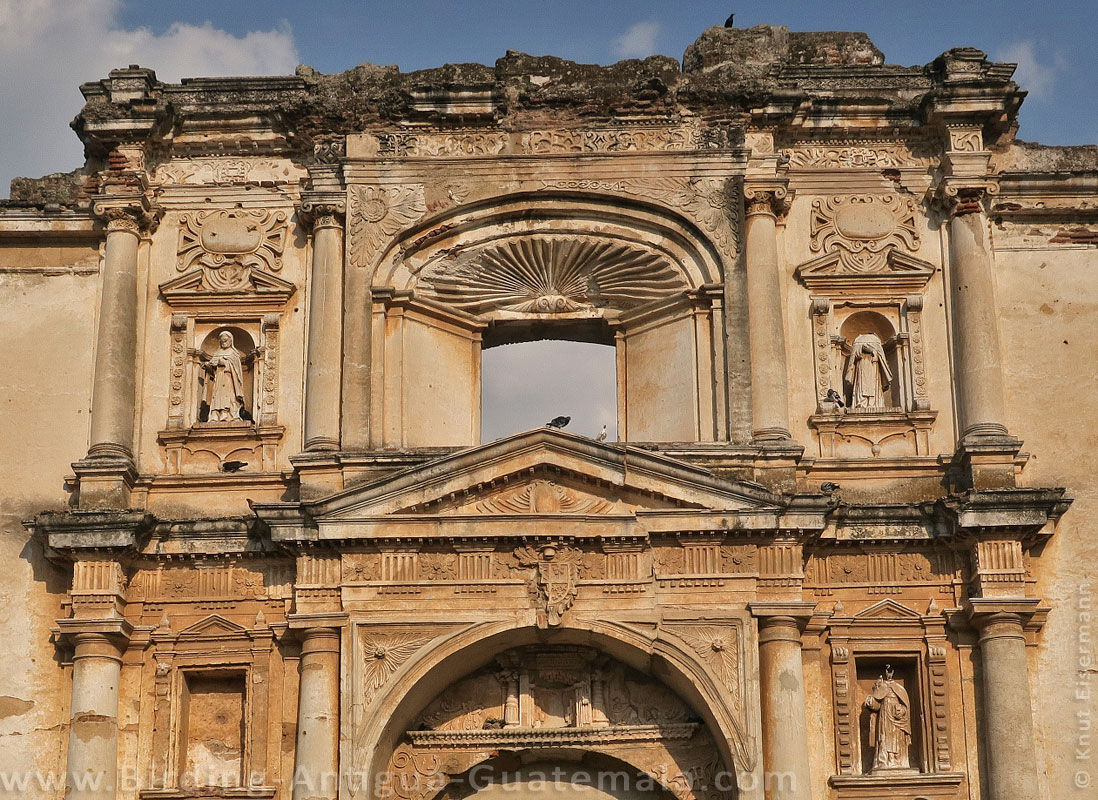 Severe earthquakes on July 29th, 1773, destroyed Santiago de Guatemala. It was decided to relocate the capital to the area of present day Guatemala City. Since 1774 Santiago de Guatemala has been called Antigua Guatemala. The decision of relocating the capital instead of rebuilding it was disputable. Many inhabitants refused to move and Antigua Guatemala was never completely abandoned.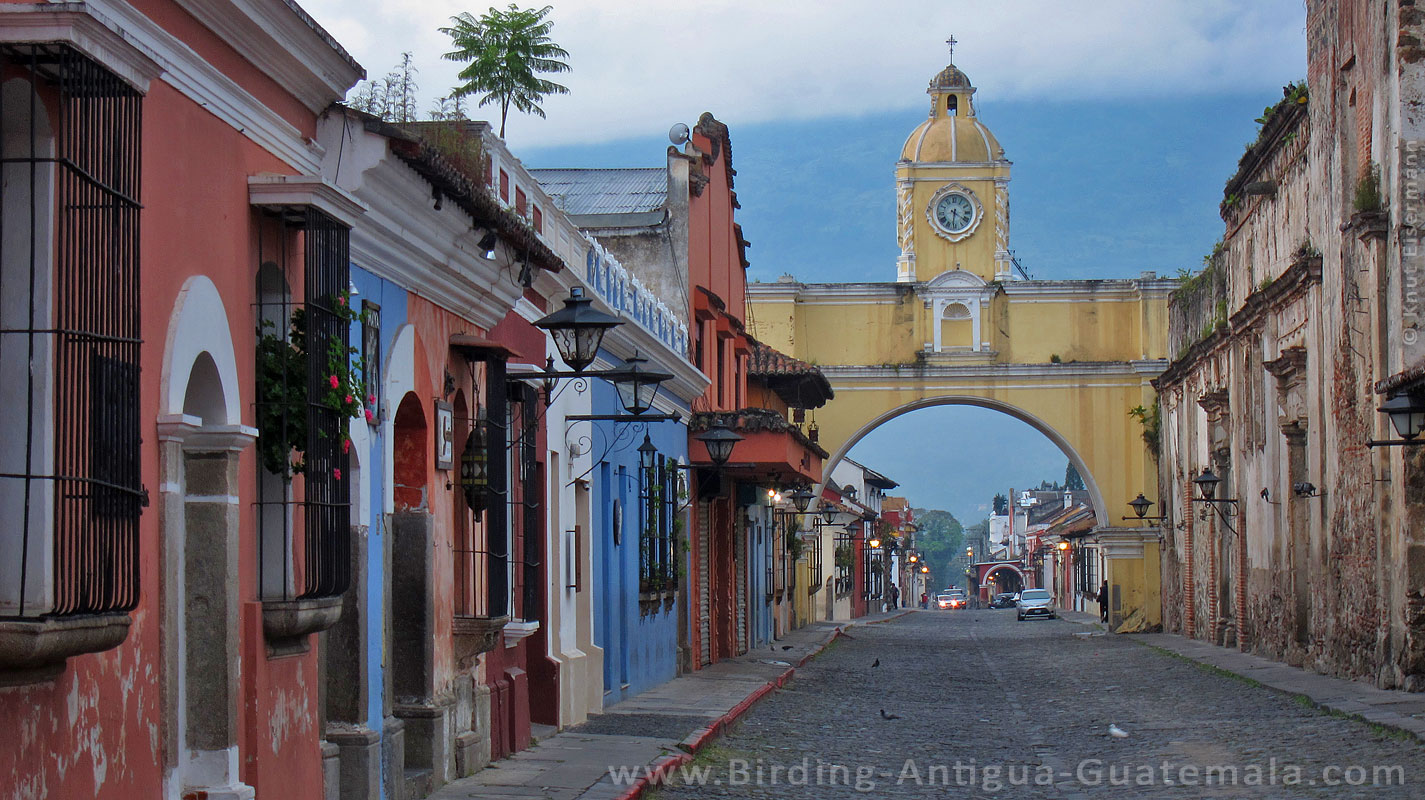 Thanks to some dedicated people of Antigua, you are able to enjoy this old town as it is today. The beauty of Antigua should not be taken for granted: it is based on dedicated restoration work since the 19th century, and on initiatives to preserve the colonial style of Antigua. This led to Antigua's designation as national monument in 1944, designation as Monumental City of the Americas in 1965, and the designation as UNESCO Cultural World Heritage Site in 1979. Based on a national law, the National Council for the Protection of Antigua was founded in 1969 as authority for the implementation of regulations to preserve Antigua's colonial style.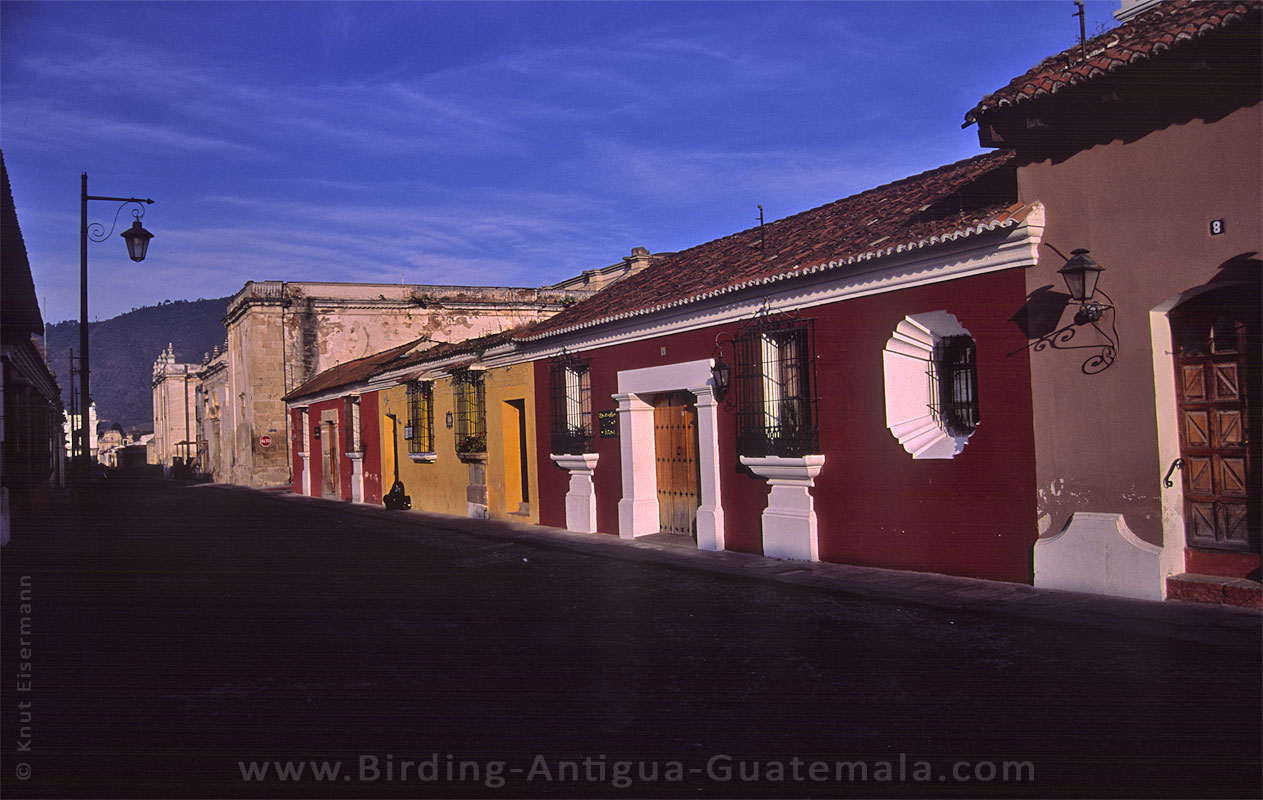 The beauty and coziness of Antigua has been attracting international tourists since decades. Countless hotels, restaurants and cafés provide services for all budgets. Antigua is a great base for exploring the bird life in the surrounding hills.
Start here planning your birding day trip from Antigua Guatemala, using our online form or by telephone / WhatsApp / Signal: +502 5308 5160:
References
Appleton's Annual Cyclopaedia and Register (1881) Guatemala. Appleton's Annual Cyclopaedia and Register of Important Events of the year 1876 (New York) 16: 373-375.
Bell, E. (1999) Antigua Guatemala: the city and its heritage. The author, Antigua Guatemala, Guatemala.
Congreso de la República de Guatemala (1969) Ley protectora de la ciudad de la Antigua Guatemala (Decreto 60-69 del Congreso de la República).
Contreras R., J. D. (2002) Breve historia de Guatemala. Edición actualizada. Editorial Piedra Santa, Guatemala Ciudad, Guatemala.
Gall, F. (ed.) (1976-1983) Diccionario geográfico de Guatemala. Instituto Geográfico Nacional, Guatemala Ciudad, Guatemala.
Illustrated London News (1856) Central America. Illustrated London News Vol 24, No. 815: 155-156. (9 August 1956).
Muybridge, E. (1876). The Pacific coast of Central America and Mexico; the isthmus of Panama; Guatemala; and the cultivation and shipment of coffee. The author, San Francisco, CA.